At Pretty Greens Organic Farm we have been really busy. Since the move to our new location in San Pedro de Alcantara near Marbella, a lot has happened. Read on to find out more about life down on the farm.
Glitz and glamour generally come to mind when you mention Marbella. Behind the scenes is a quieter more eco-healthy vibe. In the campo of San Pedro de Alcantara lies a host of organic growers, from banana plantations, avocado, lemon orchards and olive trees. This is where you will find Pretty Greens Organic Farm, which is a little known hidden gem, so let me introduce you.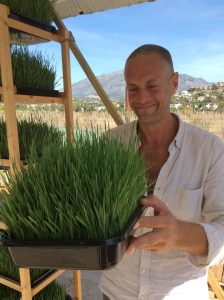 Pretty Greens was started in 2012 by the current owners Warren and Assel. It was a business born out of a personal journey rather than a business idea. After drinking wheatgrass through his own illness, it became apparent to our founder Warren, this wonderful and vitamin-packed little juice had more benefits. Having been prescribed pharmaceutical drugs, he was keen to go a more natural route for healing. Over the years Warren has strived to improve on what was already the best wheatgrass people had tasted. However, 7 years on and the farm is going from strength to strength. Now helping others to realise the amazing benefits of drinking wheatgrass, it is currently sold through our online shop, local retailers and cafes.
Pretty Greens Frozen Wheatgrass is entirely organic. From the soil to the seeds, that are all from certified organic sources. Our ethics continue through the packaging that is biodegradable. Our company ethos is looking after the planet in every way we can. If you ever want to view the farm, we are open to the public by appointment.