We first discovered the magic of wheatgrass juice when our founder, Warren was diagnosed with cancer.  Wheatgrass played a huge role in his complete remission and we have never stopped taking it since.  Having been given the all clear, Warren was keen to share his knowledge and expertise with people, so he decided to make a business out of it.  It took him several years to develop our perfect wheatgrass juice, and in truth, he is always looking to improve upon his 'baby' every day.  Warren would have been quite happy just juicing for family and friends, but so many people said our juice was "the best they ever tasted" we were convinced our wheatgrass would fly off the shelves.
Each individual tray of our wheatgrass is cared for and handled with love, and we are proud to say that our product is completely organic.  We buy our organic soil and seeds from very reliable certified sources, and in order to make our juice super powerful we add rock dust to the soil mix. The 70 plus minerals in the rock dust ensures our soil is the best nurturing environment possible – more nutritious soil grows more nutritious wheatgrass.  We also use osmosis filtrated water and cold-pressed organic kelp juice to ensure our wheatgrass is the purest you will find. The kelp adds extra iodine to the wheatgrass juice, making it excellent for people suffering with thyroid problems. Finally, we play a range of music genres to our wheatgrass, such as classical and binaural beats, but isochronic tones seem to work best! We are convinced that plants thrive and grow stronger, absorbing the good vibrations.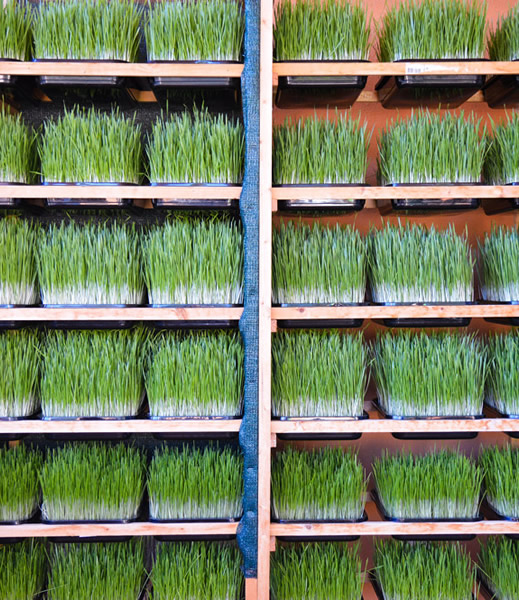 The anecdotal evidence of the benefits of our juice came in thick and fast, with virtually everyone who drank it claiming "improved digestion", "clearer skin", "increased energy levels" and even "the best hangover cure!!!"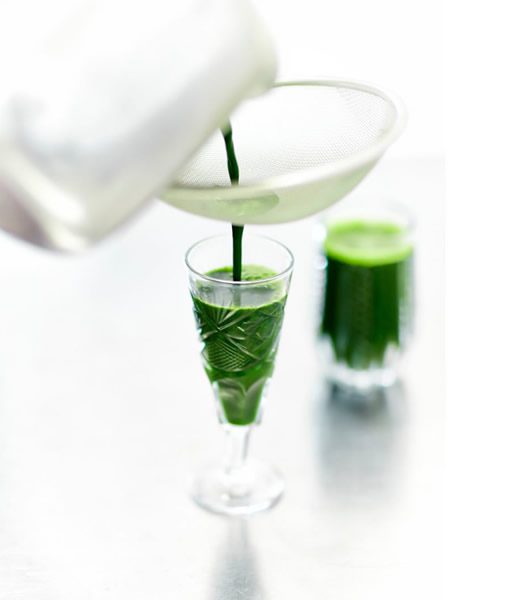 Once our wheatgrass reaches its optimum nutritional level, we harvest it, extract the juice immediately and flash freeze it to ensure no nutritional loss. For extracting, we use Angel cold-pressed juice extractors, as we consider them to be the finest available globally.
As an organisation, we are committed to environmentalism, so much so that our shot cups are made from a vegetable compound (we abhor plastic!) and our packaging is 100% recycled, unbleached paper. We adopt a 'cradle to cradle' philosophy with our wheatgrass operation, composting all waste to produce the best quality organic soil.
We genuinely believe that wheatgrass juice should be a daily part of everybody's lives, as it prevents, helps and heals so many ailments. Stay green!!!
We are now ready to start promoting our organic wheatgrass through our new online shop and stockists
We have achieved all our organic certifications
Home orders were going so well, we decided to invest in a small urban farm in Andalucia, dedicated to growing organic wheatgrass
We started growing wheatgrass from our home in Andalucia,Spain
Warren recovers from cancer and believes wheatgrass played a major role in his recovery